Akyweb.com Pte Ltd is a Singapore Web Design and Application Programming Firm. We Provides web design, website development, web application programming, ecommerce solution, website and email hosting, internet and website marketing for business, search engine optimisation (optimization) and submission, online banner advertisement, website traffic monitoring and analysis solutions. No matter what your needs in Information Technology, we have the experience and personnel to design your website and bring your products and services on-line quickly and professionally.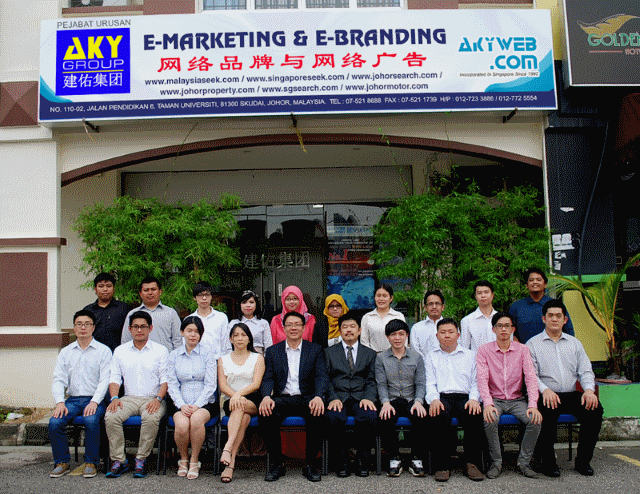 Akyweb.com Pte Ltd, was incorporated in 1992. we are one of the rare Internet Services Provider in Singapore who made it through the Dotcom Bubble and still managing growth today, we have developed our core competencies along project management in IT solutions. IT Solutions that rides on the backbone of the Internet Infrastructure are our prerogative. Curently, we have more than 2500 clients in Singapore and 500 in Malaysia. Our clients include listed companies, the government sector, Multinational Companies, Non-profit organisations, SMEs, Schools etc. In the year 2000, we set up a company in Johor, Malaysia, called Akyweb Application developer and designer to give further support to our Singapore office. In the year 2004, we incorporated another Malaysia Branch office callled Akyweb Solution Sdn Bhd to expand our Business in Johor, Malaysia.
In 2006 October our founder Mr. Ang Kian You Jason having been recommended by the Board of Governors and honoured for Spirit of enterprise 2006.
In 2008 we have formed another 6 companies to invest total 1400 international portal, which covered Business Directory, Online Job Portal, Online Property listing, Online Classified listing, Online Car Portal, Online hotel Booking and review portal, Search Engine etc. (for more details). We also help our clients to advertise their business through our international portals, which is the most cost effective way to penetrate to international market.
We have now further expanded our business to these following countries: China, Indonesia, Cambodia, and Vietnam. Moreover, there is also a new branch in Sarawak, East Malaysia. With Experienced programmers and designers, we're ready to serve our clients at our best in order to achieve best SEO results, and allow clients to grow their businesses in highly efficient way.